---
FREE SHIPPING
on all orders $99 or more
---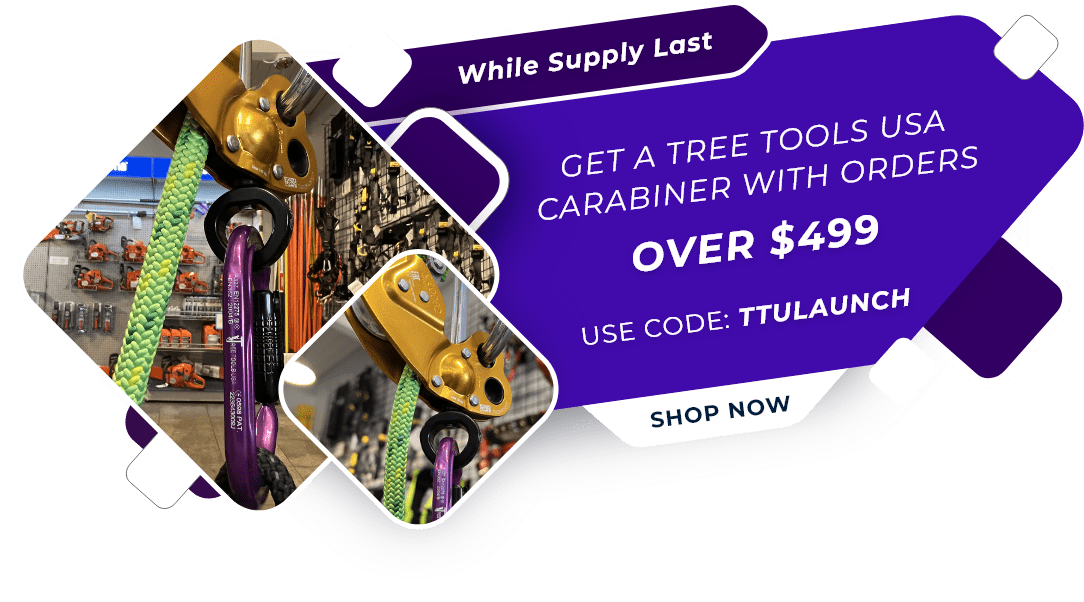 Featured product
The Cobra Dynamic Bracing System is a full dynamic tree cabling kit for bracing large branches and stems while allowing for shock absorption and stretch for better tree health without damaging the tree. The Cobra System features a super-strong rope that has an expansion insert slipped in to increase the surface area of the rope against the tree, then an abrasion-resistant sleeve goes over that to extend the lifetime of the system. Integrate the Cobra Tree Bracing System into your arborist supplies today!
new PRODUCTS
Husqvarna Closeout Sale
Items in Stock
Store Pickup Only
Thank you for visiting Tree Tools USA
We are the arborist store formerly known as Artistic Arborist. We've been serious about trees since 1981 as a staple in the arborist industry. We are a hardworking, all women-owned staff who love the tree care industry and the men and women who do it! (Our mascot Duke the labradoodle is a male but just gets the fun job of sniffing out his monthly deals!)
At Tree Tools USA we care about the products you need to do your job efficiently and safely — while also looking pretty cool hanging from trees and making those perfect cuts! We can outfit you with stylish gear that most importantly, also keeps you comfortable and safe. We want you to have fun in the trees, like Tarzan, with strength, speed, and endurance!
Tree Tools USA began from a home office in 1981 as Artistic Arborist and now we're an arborist superstore reaching you on the internet! Don't worry, we're still humble and we are so grateful you are here. We want to continue to grow with you — just like the trees.
We carry your favorite brands: Petzl, Silky, Weaver, Rock Exotica, DMM, Climb Right, Arborwear, Notch, Protos, Cloggers, Samson Rope, Husqvarna, Buckingham, Bashlin, Edelrid, CMI, and Yale Rope, and we are consistently adding new brands and products to our inventory to better serve you. We offer fun monthly training classes for CEU credit and host community mixers in our superstore, so stop in! If you have any questions about products or need advice, we're happy to assist you online or in person.
Come visit us at our store: 4600 N 7th Ave, Phoenix, AZ 85018
GET IN TOUCH
Office Location
4600 N 7th Ave
Phoenix AZ 85013
United States
602.263.8892 or 602.263.TREE
Email: [email protected]
Store Hours:
Monday – Friday
8:00 am – 4:30 pm